3 Examples of SelfSymbols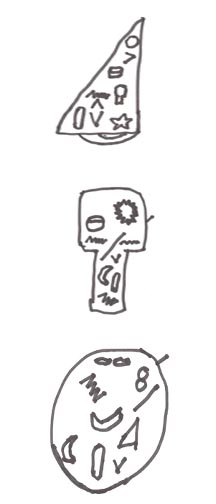 Hand drawn, black on white, no two exactly alike.

Created via the channeling of symbols and concepts, similar to the mechanisms of Reiki and of Tarot.

Symbols have magnetic power. All of us are affected by various symbols. Creating and using a personal symbol gives you more direct access to fulfilling your values, and assists you in being in better alignment with those values.

Fill out the form (see link below) involving those values.

After payment for the SelfSymbol you will receive a large jpg by email of your personal SelfSymbol.

You can reproduce it in any manner you wish.

It belongs to you alone. Copyright it if you desire.

The SelfSymbol can be used in a variety of ways, particularly in meditation.

Color it. Or have it made into a rubber stamp. Engrave it in metal. Use it as a desktop background or screensaver.

It's your SelfSymbol. Never to be duplicated, unless by you.